I was craving for some good meat and while visiting a friend staying at The Grand Hyatt, the Manhattan Grill seemed like a good choice.
Serving up different cuts of US prime beef, Manhattan Grill steakhouse in Dubai gives you a classic New York experience with its sleek and modern interior while the combination of metal and dark timber adds a touch of society action and style. Satisfy your craving for meaty tenderness with hearty steaks or juicy burgers, complete with a slice of dessert. The steakhouse in Dubai features a large selection of New and Old World wines by the glass and bottle.
While soft jazz music played in the background, I took a minute to enjoy and appreciate the details of architecture:
Perfectly lit space, the dimmed ambiance relaxes all your senses
Stainless steel covers the walls
An open kitchen on the left side welcomes you as you enter the dining space
A large meeting room with a private table can host a dozen guest for some private dining
A bar overviews the place serving drinks and refreshments
A cozy outside terrace welcomes smokers and people looking to enjoy the warm weather
Perfectly set, square and round tables with their white cloth covers fill in the space under the high ceiling
Fine architectural details and premium material used transform a grill into a sophisticated upscaled restaurant
Square tiles cover the walls
Wines are displayed all around the place
The menu:
Appetizers
Prime cuts selection
For a surf and turf
From the sea
From the grill and oven
Side orders
Dinner started with a tray of homemade bread, cut in five slices and served with Beurre d'Isigny butter. Crunchy from the outside and soft from the inside, the bread is warm and tasty. An interesting first impression preparing us for the rest of the meal.
A perfect initiative:
My friend didn't order a starter so the chef complimentary sent him a small shrimp and asparagus salad to open up his appetite. I loved this gesture.
We had for dinner:
Dungeness crab cakes, mango chutney, cumin oil, cilantro aioli: In a Rectangle plate, three balls of crab are served next to a mix of mango cut in cubes. Non oily, the crab fried balls are tasty filled with a purée of fresh crab mixed with some vegetables. Put together a bite of fresh crab with to the sweetness of the mango and this will be a nice starter
House smoked salmon, black pepper sour cream, shallots, capers, parsley: Fresh salmon served with dices of apple, this plate is simple. I would like to bring up a point here. Look at the image? Is it appetizing? Salmon is a fine and expensive fish with a color and texture that speaks for itself. Why would you need to cover it with that many ingredients, that many onions and find a way to put the cream on top as well? Please no!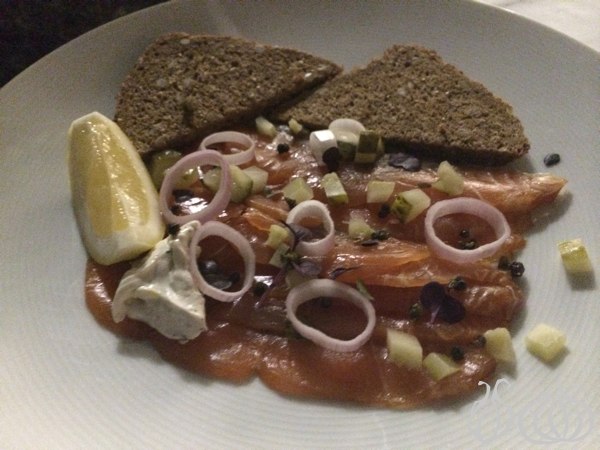 Wild mushroom and tarragon soup, truffle oil, crouton: served in a large round bowl, the soup is fresh and tasty while a background smell of truffle oil turns its simplicity into finesse
Wagyu sirloin steak, 335g, Grade 7: Wagyu refers to several breeds of cattle, the most desired of which is genetically predisposed to intense marbling and to producing a high percentage of oleaginous unsaturated fat. The meat from such wagyu cattle is known for its quality, and demands a high price. The Manhattan Grill meat is simply excellent, and perfectly well prepared. I loved its tenderness and juiciness which justifies its high price.... Superb to say the least
Crispy fries: Large potatoes that seems to have been boiled before being fried. A thick crunchy envelop of Tempura flower, while the inner part is non oily and soft like butter. Bravo for this mouthwatering creation
Wagyu rib eye steak, Grade 6, 335g: Soft and tender, it melts under your teeth like butter
Until now, dinner was great. I enjoyed the starter and appetizers as well as the quality of the meat. Beautifully presented plates filled with generous portions and premium ingredients.
Unfortunately what comes next is not up to the expectations of this restaurant.
Dessert needs a big improvement:
Caramel cheesecake: Fade! A faded taste of neutrality and over sweetness. Didn't like it all. Two bites and I decided to spare the unnecessary calories
The banana chocolate sunday is too melty, too gewy, too sweet and the bananas were too hard. Not something I recommend or will order again.
The manager recognized my fiend who's an accustomed client. When he asked if we liked the desserts, we honestly answered that they were not good. Professionally, the head waiter insisted to remove it off the bill.
Thank you for your professionalism, but know that the desserts need to be improved.
Manhattan Grill, the New York steak house is a place to visit while in Dubai. The meat quality and service are unmatched.