Häagen-Dazs Secret Sensations Crème Brûlée, another divine combination from the Secret Sensations range, is a truly indulgent ice cream dessert! Just imagine a center of caramel sauce surrounded by smoot rich vanilla ice cream mixed with caramelized sugar pieces. With the caramel sauce taking up 10% and the caramelised sugar pieces taking up 4.5% there's not much room in these individual pots for regular ice cream!
Ingredients:
Fresh Cream,Sugar ,Condensed Skimmed Milk ,Egg Yolk ,Dried Glucose Syrup ,Cocoa Butter ,Natural Vanilla Flavouring ,Gelling Agent: Pectins
Leave it out of the freezer for 10 minutes before indulging...
So inside the smart box are two tubs of ice cream so you can share this new flavor with someone special. Each of the pots had a plastic spoon inside the lid to scoop with, so it did feel a bit like being at the cinema, only more refined! For those that don't know Crème Brûlée is a soft caramel flavored dessert served with a layer of crunchy burnt sugar on top. The ice cream edition has a caramel base flavor, and burnt sugar crystals mixed into it. Also in the center (which is the secret mentioned on the box) is a spoonful of liquid caramel tucked in hiding! The flavours worked impressively well together. The ice cream is super creamy, but the caramel flavour is sweet and mellow so it's a combination that works. It is enhanced when you hit one of the numerous burnt sugar crystals that add a fabulous crunchy texture and a burst of sweetness. The best part was finding the center pot of gold. The liquid was intensely sweet and reminded me of the liquid that you get in a Crème Caramel dessert, i.e. Pure yumminess.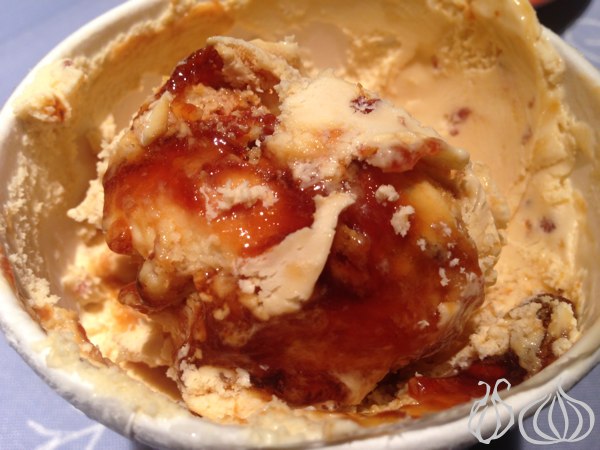 This dessert ice cream could easily have been too rich, but Haagen-Dazs balanced it perfectly using a very milky ice cream to counter balance all the sweet flavors. This was absolutely gorgeous. I have my eye out for the Chocolate Secret Sensation which has also been released, and I can't wait to find it! When I do I'll report back here of course.
If you have a sweet tooth and you see the Crème Brûlée Ice Cream edition in the shops, I really can't recommend it enough!