Wake up in Ashrafieh early in the morning and your choices for breakfast are limitless. Other than the local around the corner bakers, you can try ZwZ, Al Mandaloun's buffet breakfast and Al Falamanki to name a few.  Let's not forget Leil Nhar, a place that left me impressed with its generosity, quality of the bread, fresh vegetables and tasty eggs.
We were welcomed by Nicolas who took our order with a smile. To be honest, this is the most important part of breakfast, being welcomed and served by a smiling and attentive face.
It's been so long since I visited Leil Nhar, and they impressed me today. A beautiful setup welcomes you in this cozy well air-conditioned space enchanted by a soft musical backdrop. The colors are so refreshing that you can't but take a moment to look around with a smile on your face.
The Beautiful space:
Take the couple steps up to the terrace before opening the door branded with the place's logo
To the left is a long bar, preparing drinks
Polished concrete covers the floor
Square tables of a light wood are surrounded by old fashioned wooden chairs with grey and red fabrics
A couple of lounges with low sofas offer you more relaxed seating
Tables are decorated with light blue placemats and a basket of ketchup, olive oil, salt and pepper
A warm, cozy ambiance takes over a space that's relaxing and soothing
Colored banners decorate the ceiling
Reading the menu, you can't but notice the similarity between Leil Nhar, Bar Tartine and Zaatar w Zeit when it comes to the items and the accompanying pictures. Who copied who? I'm not sure.
The menu:
Eggs (heavily delicious)
The classics (grab it in the go)
Fulfilling breakfast (from the countryside)
Starters (hot and tender)
Salads (fresh and light)
Pizza (cheesy and yummy)
Sandwiches (exquisite specialties)
Drinks (hot and refreshing)
Desserts (sweet and mellow)
Breakfast started with a drink that caught my attention; "Tiramisu latté". Even though a bit heavy when enjoyed with food, I found the drink very innovative, and it reflected the taste of a tiramisu very well. It even looks mouthwatering with its many layers and decorated top.
We ordered:
Old style Zaatar LBP4,000: Dry zaatar, sun-dried tomato paste, fresh thyme, onion and tomato, all served in multi cereal dough. Other then being deceived by the beautiful, fake, picture displayed on the menu, the sandwich is exceptional. Old style as the name states; Zaatar mixed with sun-dried tomatoes and wrapped in a multi cereal bread. Thin, soft and light, the dough is a perfect mix that took me back down memory lane when I was 10, running around up in the mountains and discovering life as a kid. We used to wake up to those saj manakish, different from the market ones because of their unique mix. Tiny pieces of tomatoes, small bits of onions, sesame seeds and the strong, acidic tomato flavor which ended the experience in style. A sandwich I fell in love with.
Eggs and potato LBP8,000: Scrambled fried eggs, green peppers, sweet pepper, salt, sautéed potatoes, onions. Served with a bread basket and fresh vegetables. The mix is served in a metallic casserole filled with a thick layer of scrambled eggs mixed with diced potatoes and grilled vegetables. A juicy dish, well seasoned and enjoyable, I ate to the last bite.
Turkey and cheese mankouche LBP9,750: What might look like a simple wrap is in fact mastered to perfection. Passion in its making is felt with every bite. A juicy and very yummy wrap filled with layers of turkey and cheese with some mayonnaise, with an end note of crunchiness provided by the lettuce and sweetness by the tomatoes. Delicious!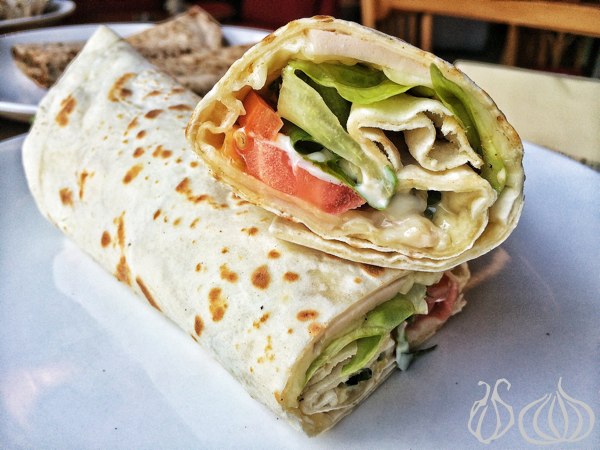 Grilled halloumi platter LBP9,250: As simple as it is, slices of grilled halloumi served in a small plate without any sophistication and decorated with diced tomatoes. A premium halloumi that's adequately salty, not chewy and very tasty.
Labneh sandwich in multi cereal bread LBP5,500: Just labneh, as it should be. Fine labneh and fresh vegetables in this unique bread.
My favorite today: The multi-cereal brown markup bread. Impressive! Everything was delicious. The bread was exceptional on all fronts, the ingredients and fillings were fresh and generous, the sandwiches were tasty and juicy, eggs were cooked to perfection... Breakfast was memorable.