I get this itch to travel every time I stay in Lebanon for a month. I feel the urge to travel, go discover what's out there, try new foods, new cultures.. Who doesn't love to travel? For me, I believe it's become an obsession where I'm ready to spend whatever I have to discover new horizons....
It's 10am on a nice sunny Tuesday morning of October, leaving Beirut onboard AirFrance to Ireland via Charles De Gaulle. While listening to
Generation Goldman Volume 2
, I started dreaming of the upcoming relaxing days, a trip without a computer and without any work to be done.
My wife and I will be attending the wedding of her cousin in one of our favorite countries in the world, our kids names are originated  there and our favorite singer "
Enya
" is also from there.
I am so excited...
Let us start our adventure on Premium Economy onboard AirFrance update. A flying class that I really enjoy, is great for trips up to four hours from Beirut to Paris.
Some quick reminders:
The premium economy
is the class in the middle between the economy and business with prices double the economy and half the business. You get a special menu as the economy class but with more room, a larger and wider seat and most importantly a big screen wit some fine tuned amenities like the water bottle, pillow and bed cover. For an average price of $1100 this class is to be taken into consideration.
On today's flight, Man of Steel and White House down, two movies that I didn't watch yet is on the menu.
IMPORTANT: Please clean the pillows from women's hair between flights! Almost all were dirty and that is unacceptable.
Just before taking off, the usual Air France goody bag was distributed. I loved the new design that changed from a blue jeans pack to a newer white with red zipper that is classier and reflects the company's colors. A toothbrush, ear plugs, sockets and headphone protection is all what you need.
Lunch started with a tiny little pack of Grissotti with an aperitifs of your choice. I went for some champagne.
The menu today:
Smoked breast of duck, hummus, smoked salmon mousse roulade
Beef bourgignon, potatoes with parsley, Vichy carrots
Poached fillet of cod with Dijon mustard sauce, tricolor pasta with spinach
Cheese
Orange chocolate cake
Coffee and tea
If you happen to travel onboard AirFrance, you will have to chance to discover a new set of cutlery designed specially by
Eugeni Quitllet
who created something light and trendy at the same time. Now water, butter and cheese are presented in a carton box and other plates are served into light plastic cups. Eco-sensibilities in aviation have now evolved from a focus on new biofuels and winglets down into the design of knives, forks, spoons and other tableware. Air France passengers in Economy and Premium Economy starting in September began dining with sleek, eco-friendly tableware crafted by Catalan designer 
Eugeni Quitllet
 in cooperation with French manufacturer IPI.
As a premium economy traveler, you are served a white table napkin and a stainless cutlery. The beef Bourgignon was hot and tasty, the salad fresh and full of flavors and the fish as good as it should be. I was impressed by the quality of food prepared by our local kitchen. As for dessert, the chocolate cake is amazing considering that it's plane food: Six different layers of vanilla, dark chocolate and sponge cake topped one over the other and covered with an orange sauce. Adequately sweet and unsung dark chocolate, this cake was really good. Lunch ended with some Lebanese sweets. I am mot sure why they didn't have any Espresso. Is ir because they don't serve it in Premium or the plane airline just doesn't offer it, I'm not sure.
I thought the experience was done when we all received a cone also created by Eugeni Quitllet, branded with the logo and on which is written (take me home). A Valrhona chocolate, calisson d'aix, nougat de Montelimar, le Salidou caramel sale, and a sticky bonbon provided by Fauchon. A fresh towel comes with the package to refresh after lunch.
Just a quick hour in Paris before continuing to Dublin, here I remembered that Terminal E, K was not reviewed yet so I walked around it shooting each and every corner while taking notes of the shop names and services available. Afterwards, a jump at
the lounge
for some drinks and here we are on my plane to Dublin operated by CityJet.
When informed that I was obliged to handout my camera bag, I understood that we're going to be onboard a tiny plane. Few steps before entering the plane I bumped my head a few time. This Avro RJ 85 is small and has small seats and little leg space. "I'm sorry to inform you that we have to go back to our parking space because we lost our braking system" the captain informed us.  And we found ourselves, after having taxied for more than 20 minutes, back in the parking spot, in this small plane that doesn't have any entertainment system. Let's wait and see.
I LOVE (not) how the hostesses were chewing gum like... Unacceptable!
Sixty minutes later while climbing to 30,000 feet and listening to
the Hotel Costes 11 CD
, I closed my eyes, relaxed all my muscles and prepared to welcome Ireland.
Bizarrely every time I travel I gain z couple of kilos and I know why: We spend our time eating on planes. Today's snack was a salmon sandwich, an omelette and a cheese muffin served with a fruit compote and two biscuits. With it came a Fauchon bag with the same candies we had on the Beirut flight.
PREPARE YOURSELF: This kind of plane is too noisy. Noise reduction headsets should be considered.
The minute I heard the captain asking us to fasten our seat belts, I opened the windows to see get a first impression of Ireland. My heart started to pound quicker the very first minute I laid my eyes on this beautiful scenery. Valleys of sand appearing clearly under the low tide, cliffs like in the movies and vast areas of pure greenery. Move deeper into the land to see a well structured city on a straight piece of land filled with colors. Welcome to Ireland.
The funny part started here. It started after we landed. Leaving the plane, we had to pick up our hand luggage from a box next to the plane then walk on the Tarmac at a distance of fifty meters to reach the terminal. I felt like we were at a bus station without an intensive security we're used to at airports.
Things then flowed easily until we reached the taxi station that took us downtown. 25-30€ will take you to the hotel. The Westin, our hotel of choice is one of the renowned five stars in the city, located in the heart of the capital at walking distance from the shopping center. A beautiful lodging with large rooms and a professional staff will make your stay memorable. A long busy and tiring day in which we decided to have dinner at the hotel at their only venue that serves dinner late; The Mint bar.
GOOD TO KNOW: Dinner is served until 09:30pm maximum around here. They do eat early and continue for drinks afterwards.
To blend in the ambiance and enter into the style of the country, what else to have than a fish and chips dinner. They do prepare it very well... It's their local signature dish after all. Non oily, crunchy on the outside and soft on the inside, dinner was nice and tasty. Adding to that an introduction to Ireland's renowned beer, Guinness and another I liked even more, 
Galway hooker
. You cannot come to Ireland and not taste Guinness.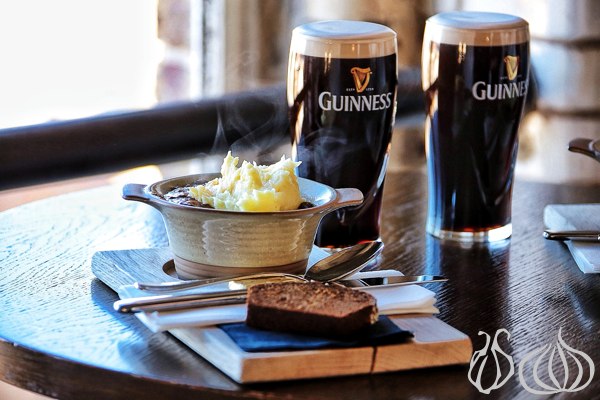 Day 2:
The second day is going to be the busiest of all as we prepare for the wedding of my wife's cousin.
After having a majestic breakfast at the hotel's bar restaurant
, The Exchange, and enjoyed fine English preparations like the sausages and eggs, muffins and hash brown, my wife and I went for a quick discovery of the neighborhood searching for the nearest Marks & Spencer's. She went for shopping as I toured around my heaven space: M&S food. What a place! Thousands of fine food brands and preparations from the four corners of the globe, all in one well decorated place filled with rich aromas and colors.
Visiting M&S for me is like spending a day at the Louvre for others.
Two o'clock was wedding time, so we went to the wedding venue to celebrate this happy time. Drinks followed at a local bar then dinner at a fine restaurant everyone knows about, Seapoint, a place worth mentioning. I truly didn't believe I can eat fine food is Ireland as my last culinary experience in London was not one of the best. I thought Dublin would be the same but I was wrong. In a cozy ambiance, up on the roof of this fine restaurant, is a private room that hosted us for the night.
Premium wine, fine dishes, an exquisite dessert and long hours that passed like minutes. It was a long day filled with celebrations, where we were introduced to Irish traditions.
MY RECOMMENDATION: Let the open bus tour be your main interest for two days
Day 3:
It was time to discover Dublin inside out and what better way to take the open tour bus. The open tour bus, usually operated by
City Sightseeing
, the famous company with its red buses available in all major capitals of the world, takes you on a 360 degrees tour around the city's major touristic attractions. We bought a ticket that is eligible for use for the next 48hours and started to discover this ancient city kept intact as no destruction wars have passed by it. The tour is divided into two routes, red and yellow, each taking approximately an hour and a half to complete that without mentioning the stops.
The major things to see were
the Guinness factory
, St Patrick's cathedral and the O'Connell street they say is one of the widest streets in a Europe. My favourite not to miss stop was the Guinness factory which takes more than three hours to complete if you want to follow all the steps on the sixth floors.
We than had dinner at the groom's parents few kilometres out of the capital where we got introduced to local traditions.
Day 4: Today started by one more breakfast at the Westin. As good as the days before, in a cozy and pleasant atmosphere, I tried one additional choice of eggs, the superb muffins and tasty bread. I fell in love with this part of day. My eyes would automatically open at 7am, get ready fast and head down to enjoy a pleasant morning start.
Today was my day! The day of fun and enjoyment, the day of fine food and entertainment. A long day that started with some shopping followed by
lunch at a famous burger place
, coffee at a local bakery, enjoying a signature show and last but not least eating at the best restaurant in Ireland.
Would a trip be complete without trying a burger? So I let Google maps lead me to a famous diner which had more than 4/5 on the Google review page. I'll let you read the review but know that I had to skip lunch and spend the afternoon with a stomach ache. To compensate for this bad experience, my wife and I decided to try some fine desserts and of course Irish Coffee. That point really skipped our mind but we were leaving Dublin without having an Irish coffee.
Surfing from a page to the other, we were redirected to a place called, the Queen of tarts which they say have tasty things and a good Irish coffee. Tasty tarts, yes but surely not an Irish coffee.
Afterwards, we attended the last performance of
"Heartbeat of Home"
, a show from the producers of Riverdance and we had the chance to be part of the DVD recording session of this show. "Dance extravaganza gets in step with 'Ireland of today' .. the dancers are athletic, graceful and exuberant, so too is the two-sectioned band, with trumpet, sax and uilleann pipes, and fiddles, accordion and keyboards, a percussive battalion and Lucia Evans's bountiful singing.... bringing all the rhythms of life back home."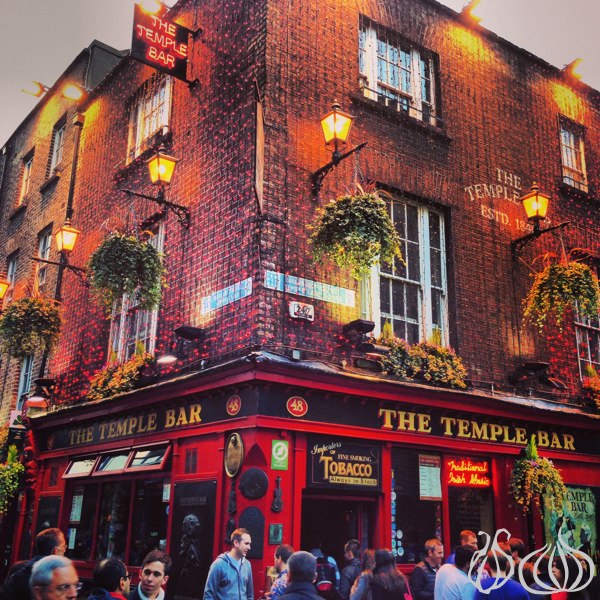 THE BEST FOR LAST:
Dinner at
Patrick Guilbaud
: Restaurant Patrick Guilbaud has been a center of fine dining in Dublin for the last thirty years and is Ireland's only two star Michelin. Situated beside the 5 star Merrion Hotel in Dublin city center, the cuisine is contemporary Irish with classical roots. Having featured in everything from the Irish Times to the New York Times, it is renowned as one of the best restaurants in Ireland and is also internationally acclaimed. The RPG philosophy is simple: it is about delivering impeccable dining experiences. We look forward to welcoming you.
CURIOUS THINGS TO KNOW: 
"Off license" can be read on many shops. It means that alcohol can be bought as take away
Taxis add an additional charge of 1Euro to each additional passenger taking the cab. Example, if you are three taking the taxi, you will 3€ fee to start with
Remember to drink a cup of Irish coffee. You're in Ireland after all
A taxi from the airport into the city center is around 25-30€
Taxis have another pricing starting 8pm but overall their price is affordable
Taxis can't be paid by credit card on the spot unless you prebook them by calling a special number
Going back home:
the last day was an airport and traveling day. I insisted to leave the hotel early to have enough time at the airport to visit every corner of it, its
lounge
and restaurants. The schedule was to take CityJet to Paris followed by AirFrance to Beirut. I didn't expect to see since a big airport with that wide choice of shops. Even though its ceiling is low and claustrophobic, the airport is interesting and going through it will make time pass quickly. The lounge on another hand is cheap and doesn't reflect the companies it hosts. Clean it is but not interesting. I would personally avoid it next time.
City Jet's meal: Chicken with lentils, President cheese, egg omelette, fruit salad and Lily O Briens crispy chocolate biscuit. This meal was fair and tasty. Few hours in Paris and back to Beirut. Five days were not enough to discover Dublin. I'll be definitely coming soon for more.
Onboard AirFrance the food was really good. Few times in my life I've eaten a preheated meal in an aluminum foil that is that good. Salmon Timbale with vegetable brunoise with baby spinach followed by creamy fricasse of salmon and Alaskan hake fish with mushrooms served with carrot purée. A caramelized pineapple delight cake followed. Dear AirFrance chefs, I salute you! I enjoyed my meal so much.
We landed in Beirut, bought some cigars on our way out like the habit obliges and we went back home to see the kids. See you next week for a trip to Milano.